US Auto Sales Recovery Continues
Looking more at US auto sales for April and what we might see going forward…
Ford's U.S. sales in April rose 11.3%, compared with year-ago, to 186,572, a tally that could have been higher if not for a shortage of key models, the auto maker's top sales analyst says.

"We exceeded our sale's plan for the month but acknowledge that dealers could have sold more if they had more of certain product lines," George Pipas says in a conference call with analysts and the media.

Smaller cars, in particular, saw sales hampered by the shortage. The Focus C-car, despite posting a 17.8% year-over-year gain on 17,265 deliveries, was the poster child for demand outstripping supply.

Production of the all-new '12 Focus recently began at the Michigan Assembly Plant in Wayne, MI. The factory was still in ramp-up mode last month, which led to inadequate stock for some dealers, says Ken Czubay, vice president-U.S. marketing, sales and service.

"It was really the first month for the (new) Focus, and dealers were selling them off the truck,' he says. "It takes a while to stock shelves."

Deliveries of Fiesta B-car also were affected by supply shortages, numbering only 9,147 units in April.

Despite the limited supply, the two models played key roles in helping Ford make inroads into California, the largest auto market in the U.S. and where domestic auto makers historically have struggled. Pipas says Ford's sales in California jumped 34% last month and are up 37% year-to-date.

"The U.S. frequently is referred to as a mature market," he says. "But there is a tremendous opportunity outside our traditional geographic areas of strength."

The new Explorer SUV, built at Ford's Chicago assembly plant, is another victim of supply constraints, with overall sales surging 129.0% in April to 12,593 units.

Currently about one-third of the factory's annual capacity is dedicated to the Explorer, Czubay says. The plant also builds the Ford Taurus and Lincoln MKS fullsize sedans.

Neither Pipas nor Czubay provide details on what Ford will do to address the shortage of key models, saying only that the auto maker is doing its best to keep up with demand. "I don't think we're taking any downtime," Pipas quips.

Several other Ford models made a strong showing in April, as well. Deliveries of the Fusion midsize sedan climbed 17.8% from like-2010 to 19,904, while Mustang sales spiked 53.1% to 8,180.

Pipas credits some of the Mustang's gain to higher fleet sales. "Retail and fleet sales of Mustang were both up, but last year we were balancing out the old-model Mustang. And when you balance out product, there are very few fleet deliveries."

Sales of the Ford Escape cross/utility vehicle rose 7.3% in April to 20,170. Czubay says as gas prices rise, the auto maker is seeing an increase in demand for the 4-cyl. Escape models. "There's a 50-50 mix between 4-cyl. and V-6 models," he says. "A year ago or so, about 40% (were 4-cyl.)."

Nevertheless, the Escape last month relinquished its lead in the small CUV segment to the Honda CR-V, a title Ford took from the longtime leader in March. CR-V sales edged out the Escape by 1,693 units.

Deliveries of Ford's top-selling F-Series pickup rose 3.7% to 42,723, with about 50% of buyers opting for models equipped with a V-6. Of total F-Series sales, about one-third were Super-Duty models, the auto maker says.

The fleet mix for the month was 36%, with 20% of total deliveries going to commercial and government entities and just 16% to the less-profitable daily rental industry. Ford's year-to-date fleet mix is 34%, with commercial and government accounting for 19% and rental 15%.

"For the full year, we'll have a daily rental mix in the 12%-13% range," Pipas says. "That's consistent with years past."

Ford says it finished April with 396,000 vehicles in inventory, including 109,000 cars and 287,000 trucks, which Pipas says represents about a 54 days' supply.
Here is AutoNation's ($AN) Mike Jackson on CNBC this am. For those who do not know who Jackson is, his group is the single largest auto dealer in the US.
Here is Jackson on CNBC this am:

What a waste to have him on for 3 min. The guy knows more about the auto industry than ANY guest they have EVER had on. Should have given him 20mi. and peppered him w/questions on the the US makers Ford ($F) and GM ($GM). Maybe a thought or two on the Japan situation and what he is seeing with Honda ($HMC) or Toyota ($TM)? ? Frustrating…
Anyway, for us the takeaway is gas prices are high to stay (prob ~$4) and that means a shift to fuel efficient cars. That favors Ford as we lead in every auto and truck category for fuel efficiency. The V6 engine Jackson was talking about is Ford's, perhaps that is why Ford new cars sales are up 18% for his group. Based on the article above, I think Q2 for Ford, as they catch up and get new models on the shelves so to speak looks even better than perhaps I thought it would be. Call it guarded optimism….
Another note….no, I am not concerned above the inventory shortages. These are not part related (Japan) but demand related. For far too many years the US auto industry overproduced and has to drastically cut price to move metal. They seem (for now) to have realized to errors in that line of thinking. Keeping a tighter leash on supply vs demand ensures less incentives are needed (as shown below) and means a larger profit per vehicle.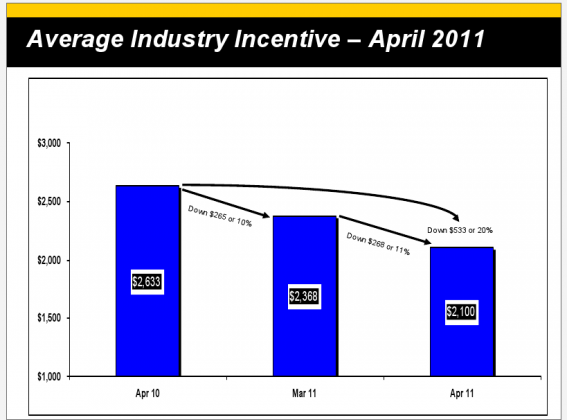 To see more posts on any of the companies mentioned in this article, enter their stock ticker symbol in the search box.
The information in this blog post represents my own opinions and does not contain a recommendation for any particular security or investment. I or my affiliates may hold positions or other interests in securities mentioned in the Blog, please see my Disclaimer page for my full disclaimer.
comments powered by

Disqus
Todd's investing strategy is essentially long with the rare short. He seeks to buy undervalued issues with an upcoming catalyst that will help them realized.... More »

Tags

Archives