Temp Staffing's Interesting Trend
Now, most people it appears based on the limited TV I watch seem to be predicting another slowdown this spring summer. The rational seem to be "it happened last year so it should this year". It all comes down to jobs, right? Well if we look at the temp staffing index and remember its ~3 month lag, we see in the spring of last year the index was flat and that was reflected in the early summer data we saw in NFP that "disappointed after a strong spring". Couple that with the Greek "drama" at the time and we had a recipe for trouble.
The index began climbing in in mid/late summer '11 and that was reflect in the fall with the "stronger than expected" jobs data.
It seems as though employment data can only move in one direction in perpetuity?
BUT, if we look at what is happening now (chart below), we see a different story. We are seeing the index begin to strengthen through March (like it did in Dec '11 & why this year's strength was no surprise). If that continues, we should see NFP begin to strengthen in late spring/summer meaning it seems we should expect more "payroll surprises" when those summer vacations start. What may compound these surprises is the index's results YTD. While they have been higher than last year, incremental monthly progress has been muted so I would not expect significant NFP improvements this Spring beyond the numbers we are at now. That ought to increase the pessimism going into our "surprise period".
Staffing employment in March is up 4.5% from March 2011, according to the American Staffing Association Staffing Index.

The index for March is 89, up two points from the 87 reported for February. Since the beginning of 2012, temporary and contract employment has grown 18.3%, according to the index.
Here is the chart: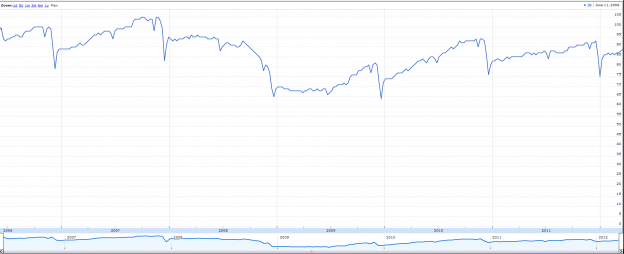 To see more posts on any of the companies mentioned in this article, enter their stock ticker symbol in the search box.
The information in this blog post represents my own opinions and does not contain a recommendation for any particular security or investment. I or my affiliates may hold positions or other interests in securities mentioned in the Blog, please see my Disclaimer page for my full disclaimer.