A Look At Global Conditions
I always look forward to $DOW earnings for a couple reason. First, I hold shares and have for a very long time. Two, $DOW is at the base of the global economy. They make "the stuff that makes stuff", then for good measure they also make "finished stuff" and finally they make "stuff that makes stuff grow". In short, there isn't really a part of the global economy they do not touch  at some level.
So when gauging the global picture, I ignore $DOW's actual results (P&L) and focus on the demand side. That tells me what is going on globally. Let's look at it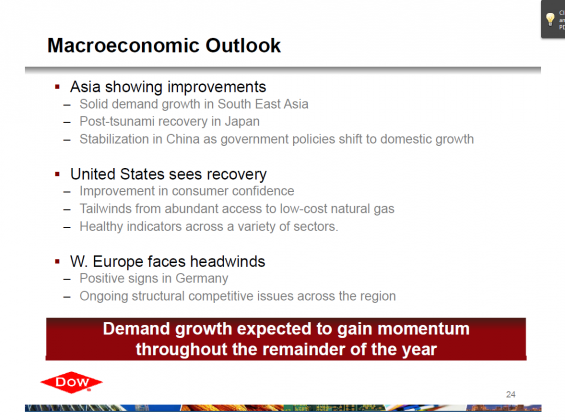 Now let's break it down by specific region and specific product category.  You'll see the growth over '11 is still flat to up in all areas and the improvement since Jan is really encouraging. While both Eastern and Western Europe is flat (as expected) they are not seeing the level of demand destruction I think many people are assuming is happening there (this is back by yesterday's post on Carlisle).  It is also important to remember when looking at the chart that the demand growth pictured in 2011 is coming off an April '10 comp when the US was only beginning to emerge from recession.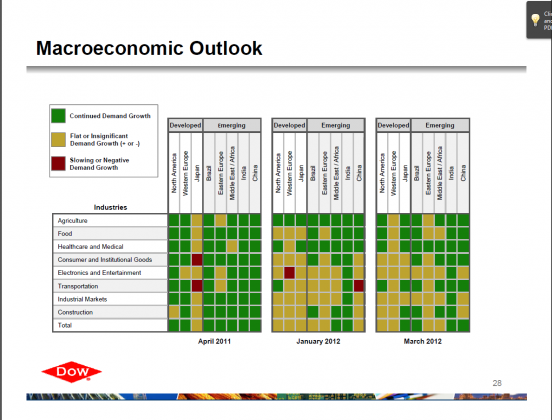 Now finally operating rates. This is a key because is gives us a clue as to global inventories. If demand is growing but operating rates are falling, then $DOW is working off inventory OR they are not seeing the current demand situation continuing  (growth). Here, not only do we have a dramatic acceleration in production from Q4 (the largest since '09) but we also have the highest Q1 and YTD readings since '09. Very positive signs as it shows not only is demand there currently but inventory levels are not high and $DOW is seeing demand continuing to increase going forward.
To see more posts on any of the companies mentioned in this article, enter their stock ticker symbol in the search box.
The information in this blog post represents my own opinions and does not contain a recommendation for any particular security or investment. I or my affiliates may hold positions or other interests in securities mentioned in the Blog, please see my Disclaimer page for my full disclaimer.
Todd's investing strategy is essentially long with the rare short. He seeks to buy undervalued issues with an upcoming catalyst that will help them realized.... More »

Archives

Tag Cloud

Recent Comments