Subs: Orion
Orion Energy Systems, Inc. (NYSE MKT: OESX), a leading power technology enterprise, announced today financial results for its fiscal 2013 first quarter.

Neal Verfuerth, Chief Executive Officer of Orion commented, "Given our recent release of the InteLite® integrated system, which addresses the market for both LED and fluorescent full-range dimming technologies, the quarter is consistent with our expectations for our year-to-date progress. Our value proposition continues to be validated by customer adoption. Furthermore, the higher average selling price of this product presents numerous growth opportunities well into the future."

First Quarter of Fiscal 2013

For the first quarter of fiscal 2013, the Company reported revenues of $15.3 million, a 16% decrease compared to $18.2 million for the first quarter of fiscal 2012.
For the first quarter of fiscal 2013, the Company reported a net loss of $1.9 million, or $(0.09) per share. For the first quarter of fiscal 2012, the Company's net loss was $0.8 million, or $(0.03) per share.
Total order backlog as of June 30, 2012 was $50.5 million. The Company currently expects approximately $25.4 million of the existing backlog to be recognized as revenue during the remainder of fiscal 2013.

Cash, Debt and Liquidity Position

Orion had $19.0 million in cash and cash equivalents and $1.0 million in short-term investments as of June 30, 2012, compared to $23.0 million and $1.0 million, respectively, at March 31, 2012. The reduction in cash during the quarter was primarily due to $2.5 million used to repurchase common shares, $1.0 million for capital expenditures and $0.7 million for the repayment of debt. Total short and long-term debt was $8.8 million as of June 30, 2012, compared to $9.5 million as of March 31, 2012. There were no borrowings outstanding under the Company's revolving credit facility as of June 30, 2012, which has an availability of $13.3 million.

Key Business Highlights

During the first quarter of fiscal 2013:

Orion increased the number of facilities retrofitted with its energy management technologies to 8,212 as of the end of the first quarter of fiscal 2013 (compared to 7,986 as of the end of the fourth quarter of fiscal 2012), representing 1.2 billion square feet of installed facilities.

Total Megawatts, or MWs, under contract from solar projects increased to 27.3 MWs as of the end of the first quarter of fiscal 2013 (compared to 24.0 MW's under contract as of the end of the fourth quarter of fiscal 2012).

The Company repurchased 1.2 million shares of its common stock at an average price per share of approximately $2.09 during the fiscal 2013 first quarter. Under the current authorized $7.5 million share repurchase plan, the Company has repurchased 1.5 million shares at a total cost of $3.2 million.
Here is the earnings supplemental
Nothing exciting/depressing on the call. They did mention they may be looking for smaller bolt on deals. While revenue was down YOY, the backlog the company has was up ~18% YOY so the business is there. $OESX said companies were slowing down capex plans and that does jive with what we have seen in other businesses this quarter as they report earnings.
But, unlike '08-'09 they are simply canceling deals, they are just slower to approve than they were in '11.
Here is a chart from the earnings call on the pipeline: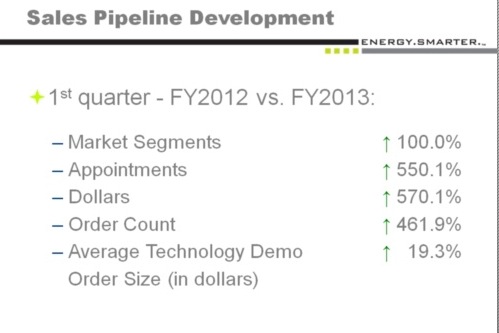 So the interest is clearly there and this ought to continue to filter into a larger backlog which will then flow into revenues.
While it never makes one happy to see revenue fall, that is offset by a larger than expected growth in the backlog. The key when they report next is to see what filters through. Further, on the call they did state that this backlog was higher margin business so a dollar for dollar flow to revenue will result in larger sums dropping to the bottom line.
The industry shifting to LED also had an effect on current revenues as $OESX went back to current customers in the pipeline with LED information that has lead to many orders in the current backlog not flowing to revenue. They feel that this effect is temporary while customers digest choices. LED pricing is 4X higher in some cases.
End market strength was in distribution centers (food service, Storage, shipping) since they must reduce costs to improve profits as they do not manufacture something.
To see more posts on any of the companies mentioned in this article, enter their stock ticker symbol in the search box.
The information in this blog post represents my own opinions and does not contain a recommendation for any particular security or investment. I or my affiliates may hold positions or other interests in securities mentioned in the Blog, please see my Disclaimer page for my full disclaimer.
Todd's investing strategy is essentially long with the rare short. He seeks to buy undervalued issues with an upcoming catalyst that will help them realized.... More »

Archives

Tag Cloud

Recent Comments