The Economy Is Slowing?? Railroads Apparently Did not Get The Memo
It seems the current meme again is the US economy is slowing. Some (ECRI for those who still bother to listen to them) say we are already in recession. Well, if it is, somebody better tell the N. American  railroad industry because they are shipping the highest amount of goods in the last four years.
Total N. American rail traffic came in at 707k cars last week. If we adjust for the reduction is coal shipments, we hit the highest weekly total in the last 4 years. Again, we adjust for coal due to the shift from electric utilities from coal (down 19%)  to natural gas (up 35%). It is purely a price issue, not a demand one as electricity production is essentially flat over 2011. Coal is shipped via train, Nat gas pipeline, so less coal mean less rail traffic. It has nothing to do with the health of the economy.
Intermodal traffic set a 4 year record at 319k cars beating the 317k cars it hit 7 weeks ago.   Grains has a huge surge to 36k cars, well ahead of last year's total.
Here is the chart: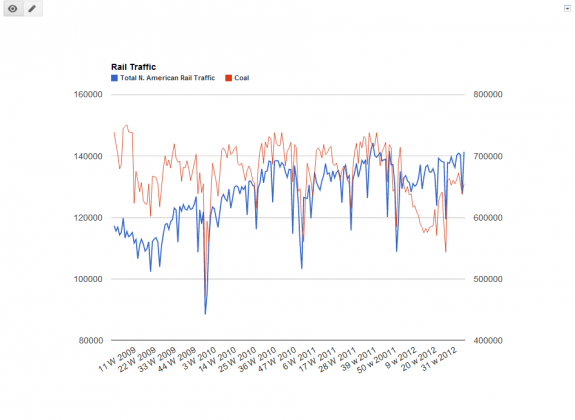 Now, there was plenty of teeth gnashing out there about $NSC and it profit warning. Some even insinuated it was a "tell" on the US economy and backed the "slowing" meme. But, let's look at what they said:
Emphasis mine:
The Norfolk Virginia based company cited reduced coal shipments and lower fuel surcharge revenue as the main drivers that will result in Q3 earnings of $1.18 – $1.25 per share, down substantially both from analysts estimates of $1.63 and the company's prior year performance of $1.59 in Q3.
Yes, that is the reason. If one looks at a map of $NSC routes (below), we find they run through the heart of the US coal industry so they will be effected more than other rail lines when coal shipments drop.
As we have been saying this entire year. This data is in no way "recessionary", not even close. We also will say it is not "booming". It is consistent with the ~2%- 3% GDP growth we have been saying we will have in 2012.  I know that is nearly not as exciting a headline as "US Tipping Into Recession" but again, as we have said all year long (actually several years now) the less exciting headline happens to be the reality….
To see more posts on any of the companies mentioned in this article, enter their stock ticker symbol in the search box.
The information in this blog post represents my own opinions and does not contain a recommendation for any particular security or investment. I or my affiliates may hold positions or other interests in securities mentioned in the Blog, please see my Disclaimer page for my full disclaimer.
comments powered by

Disqus
Todd's investing strategy is essentially long with the rare short. He seeks to buy undervalued issues with an upcoming catalyst that will help them realized.... More »

Tags

Archives