Subs: Labor Demand……..
There has been a ton of excitement out there over last weeks employment data. Again, we are not going to get caught in whether the # was 135k or 155k. We are watching the overall trends. THAT has stayed consistent and has even begun to accelerate.
"Davidson" submits:
As a proxy for future employment trends there are 2 very helpful precursors to which I pay attention, Auto&Lt Truck Sales and the various labor demand indicators of which 3 are shown below in the chart Household Survey(Emp) vs Job Openings, Gallup & HWOL Indices.

Each of these helpful economic series is often interpreted narrowly vs. previous month readings and doing so is for the most part highly misleading. But, taking them together and within in the context of each's 4mos-6mos trend, one can observe how well they correlate with each other and how well they forecast the employment trend in the months ahead. The recent trends in these various labor demand indicators tell us that employment should continue to expand at our current pace of ~280,000/mo.

Higher Labor Demand Leads To Higher Employment Leads To Continued Economic Expansion Leads To Higher Equity Prices

Some have complemented me on my economic prediction the past 3 ½ years, being very optimistic in the face of what appeared to be enormous global issues. What appears to be exceptional predictive insight is only the process of using the various economic indicators to interpret current business fundamentals. I have no forecasting ability, but can certainly see what is happening in the economy by paying close attention to the details.

These and other indicators forecast significant economic expansion lies in our future and equity prices have always risen in response.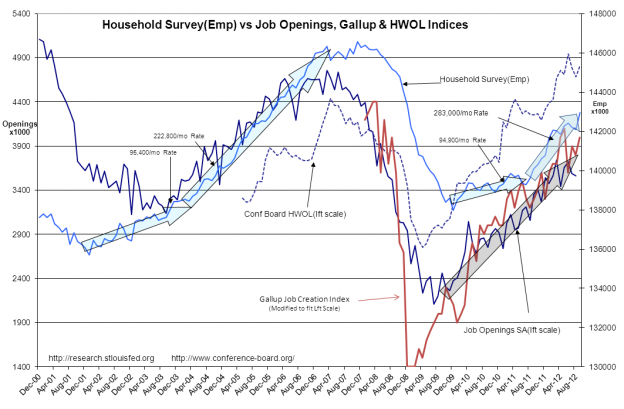 To see more posts on any of the companies mentioned in this article, enter their stock ticker symbol in the search box.
The information in this blog post represents my own opinions and does not contain a recommendation for any particular security or investment. I or my affiliates may hold positions or other interests in securities mentioned in the Blog, please see my Disclaimer page for my full disclaimer.
Todd's investing strategy is essentially long with the rare short. He seeks to buy undervalued issues with an upcoming catalyst that will help them realized.... More »

Archives

Tag Cloud

Recent Comments