Durable Good Above Pre-Recession Levels
"Davidson" submits:
Mark Perry's comments at 5:31PM reflect the strong economic fundamentals we are seeing. Use this link to read his full commentary: Mark Perry-Durable Outout above Pre-Recession Levels "Recession! Recession!" and "Market Top!", there are a number of known market experts issuing these pronouncements in recent days on CNBC. One wonders just what information they are looking at because the evidence is so obvious that we are in an expanding economy and that we have been in an expanding economy since March 2009. While one may permit some leeway in the ways each may look at the data, after a while it become very obvious that things have been getting better for a while. At this point in the cycle, it is highly unusual for so many to still be bearish. One wonders if they themselves have actually looked at the data or are they just playing follow the leader.

The economy is in good shape and accelerating. Perry's chart below is just one of 2 doz. I monitor. The market has a good reason to be up and to go higher ($SPY).*

Excerpts are below:
"Durable manufacturing output is now above pre-recession levels for the first time"
Mark J. Perry | March 15, 2013, 5:31 pm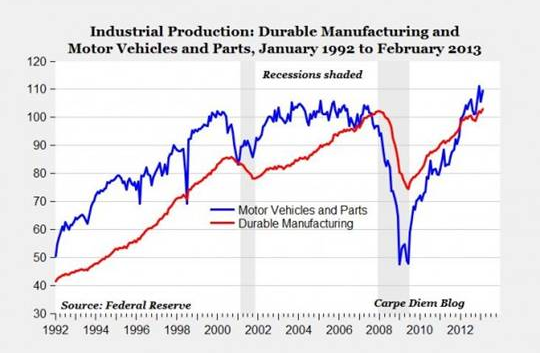 "Boosted by record motor vehicle production, the index for Durable Manufacturing reached an all-time high in February of 103, which was an increase of 3.8% above a year ago, and an increase of 7.6% on an annual basis over the last three months. And in another important milestone for the economic recovery, February's durable manufacturing output was the first month that production was above the pre-recession peak when the index for durable manufacturing was at 102.25 in December 2007 (see red line in chart)."

MP: See more detailed commentary here from First Trust Portfolios on today's industrial production report, with their conclusion that "Once again, more evidence the plow horse economy is starting to trot."
To see more posts on any of the companies mentioned in this article, enter their stock ticker symbol in the search box.
The information in this blog post represents my own opinions and does not contain a recommendation for any particular security or investment. I or my affiliates may hold positions or other interests in securities mentioned in the Blog, please see my Disclaimer page for my full disclaimer.