Presenting at The Harbor Investment Conference 2011
I have been asked and am honored to present at the 2011 Harbor Investment Conference Feb 3, 2011 in NYC. The Conference raises funds for the Boys and Girl Harbor, a wonderful organization. There are only 331 seat available so those interested should register today
The mission of Boys & Girls Harbor is to empower children and their families to become full, productive participants in society through education, cultural awareness and social services.

In 1937, Anthony Drexel Duke started the original summer camp that grew into the Harbor we know today. Called "Duck Island," that camp was on Jessup's Neck, overlooking Peconic Bay on Long Island. The campers were underprivileged immigrant boys from Manhattan, and the counselors were Tony's friends and classmates, including Senator Claiborne Pell, Mayor Robert Wagner, Bishop Paul Moore.

When the United States entered World War II in 1941, Tony was commissioned as an officer in the Navy. While he served in the American, European, and Pacific theaters, Boys Harbor camp stood empty, and the dream that had become a reality was put on hold for a few years. With the war over, Tony and his friends were back to the business of building Boys Harbor. In 1946, the camp located to Westport, Connecticut, and in 1952 it moved to Kingston, New York, when the first group of girls attended.

In 1954, the Harbor camp moved to Three Mile Harbor, near East Hampton, New York and we established our first year-round case work office on 94th Street in New York City. Dr. R. Lonnie Williams was one of the first Harbor caseworkers. Our year-round program was expanded in 1960 to include performing arts along with tutoring and counseling programs. In 1969, Lonnie Williams became the Harbor's Executive Director, overseeing our growth until his death in 1995.

We moved to our present headquarters on East 104th Street in 1977 and continued to add programs to meet the needs of our community, including day care at five sites throughout Harlem and behavioral health services. In 2001 our name was officially changed to Boys & Girls Harbor, reflecting the reality of the young people we serve.

It's amazing to think of all the triumphs and catastrophes, the scientific advancements and the changes in our society that have taken place since that summer of 1937. Through all this time, the dream of the Harbor and Tony Duke's vision remained constant: to educate girls and boys to be their best. Each year presents us with challenges and fresh opportunities, which we will continue to meet as we grow.
Here is the speaker line up:
William A. Ackman – Founder & CEO, Pershing Square Capital Management
Bruce Berkowitz – Founder and Managing Member, Fairholme Capital Management
David Darst – Managing Director and Chief Investment Strategist, Morgan Stanley Smith Barney
Alex Klabin – Managing Partner and Co-Chief Investment Officer at Senator Investment Group LP
Mick McGuire – Founder, Marcato Capital Management, LLC
Craig Nerenberg – Managing Member, Brenner West Capital Advisors, LLC
Todd Sullivan – Co-Founder and Managing Partner, Rand Strategic Partners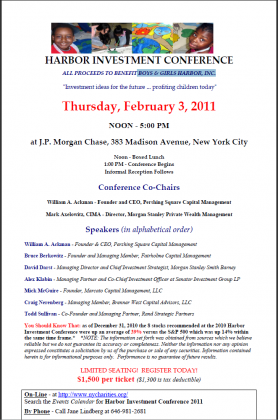 Harbor Investment Conference 2011 flyer and registration form (click to open .pdf)
To see more posts on any of the companies mentioned in this article, enter their stock ticker symbol in the search box.
The information in this blog post represents my own opinions and does not contain a recommendation for any particular security or investment. I or my affiliates may hold positions or other interests in securities mentioned in the Blog, please see my Disclaimer page for my full disclaimer.
comments powered by

Disqus
Todd's investing strategy is essentially long with the rare short. He seeks to buy undervalued issues with an upcoming catalyst that will help them realized.... More »

Tags

Archives