Temp Employment vs Household survey
This indicates continued growth in employment……….
"Davidson" submits:
Took the Est. Survey TEMPHELPS vs. Household Survey (my preferred employment index). Employment liability has evolved to the point that employers have been using Temp Staffing more and more as a means of having a try-out period before committing to an employee to reduce their liability should the employee not be a good fit.

In the chart below one can see that TEMPHELPS rose slightly before employment in 1991, its trend has preceded that of the Household Survey more and more as we move to present day. The roll over began in TEMPHELPS Dec 2005 while that for the Household Survey was Dec 2006-Mar 2007. The bottom in TEMPHELPS was August 2009 while that for Household Survey was Dec 2009.

The surge in TEMPHELPS today forecasts that Household Survey should be good for ~6mos at the very least.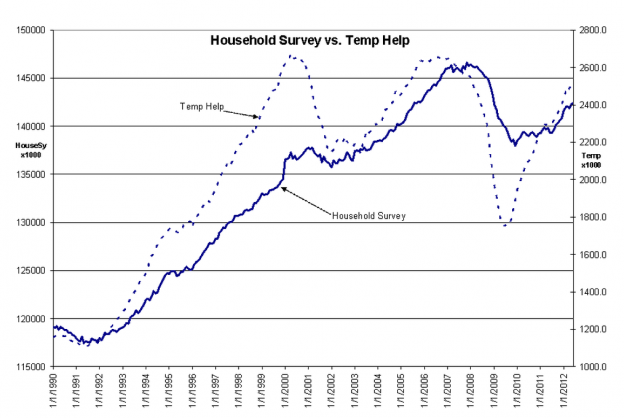 To see more posts on any of the companies mentioned in this article, enter their stock ticker symbol in the search box.
The information in this blog post represents my own opinions and does not contain a recommendation for any particular security or investment. I or my affiliates may hold positions or other interests in securities mentioned in the Blog, please see my Disclaimer page for my full disclaimer.
Todd's investing strategy is essentially long with the rare short. He seeks to buy undervalued issues with an upcoming catalyst that will help them realized.... More »

Archives

Tag Cloud

Recent Comments