Whoa…..Temp Employment
I'd be lying if I said the degree of this move was not a surprise. It is…I am extremely happy to say. The index has moved up 4.5% in the last month to 93. that level matches the Christmas high of 2011 and is only one point off the 2010 high. It is important to note that temp employment peaks in December (except of course the Lehman induced 2008 debacle). It also marks the fastest we have passed the Christmas highs of the previous year in over 6 years (again, omitting '08).
As I have said before, we ought to see some serious strength in employment numbers beginning in the May/June period
This is incredibly positive for everything we own. More people working mean more cars, more homes, more shopping trips more insurance etc etc …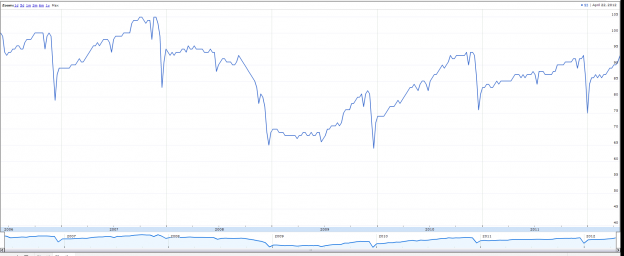 Further, check out the ISM report today:
Economic activity in the manufacturing sector expanded in April for the 33rd consecutive month, and the overall economy grew for the 35th consecutive month, say the nation's supply executives in the latest Manufacturing ISM Report On Business®.

The report was issued today by Bradley J. Holcomb, CPSM, CPSD, chair of the Institute for Supply Management™ Manufacturing Business Survey Committee. "The PMI registered 54.8 percent, an increase of 1.4 percentage points from March's reading of 53.4 percent, indicating expansion in the manufacturing sector for the 33rd consecutive month. Sixteen of the 18 industries reflected overall growth in April, and the New Orders, Production and Employment Indexes all increased, indicating growth at faster rates than in March. The Prices Index for raw materials remained at 61 percent in April, the same rate as reported in March. Comments from the panel generally indicate stable to strong demand, with some concerns cited over increasing oil prices and European stability."

PERFORMANCE BY INDUSTRY

Of the 18 manufacturing industries, 16 are reporting growth in April, in the following order: Furniture & Related Products; Printing & Related Support Activities; Machinery; Nonmetallic Mineral Products; Miscellaneous Manufacturing; Primary Metals; Paper Products; Transportation Equipment; Electrical Equipment, Appliances & Components; Plastics & Rubber Products; Apparel, Leather & Allied Products; Food, Beverage & Tobacco Products; Chemical Products; Fabricated Metal Products; Computer & Electronic Products; and Petroleum & Coal Products. The only industry reporting contraction in April is Wood Products.

WHAT RESPONDENTS ARE SAYING …

"We expect our production levels to remain at the current level or increase over the next quarter." (Chemical Products)
"In general, demand remains strong for products, and we [are experiencing] more supply disruptions now than four to five months ago." (Machinery)
"The economy was off to a good start through the first quarter, but the European issues keep coming up as well as the recent disappointing jobs report. It appears that some of the early gains may be temporary." (Fabricated Metal Products)
"Warm weather in Midwest appears to have helped soft drink sales." (Food, Beverage & Tobacco Products)
"Positive increase in volume of sales and orders, and slight uptick in inventories, indicate the overall outlook remains robust through summer at least." (Miscellaneous Manufacturing)
"Sales are slowing." (Computer & Electronic Products)
"Business conditions on a national scale have a very positive outlook for the commercial metals we provide. At this point, we have outperformed each quarter's goal and anticipate a strong finish." (Primary Metals)
"Strong demand [compared to] previous year." (Plastics & Rubber Products)
"Business indicators suggest a stronger stability in overall environment. Production and orders are stable." (Transportation Equipment)
"Business conditions continue to improve." (Furniture & Related Products)
To see more posts on any of the companies mentioned in this article, enter their stock ticker symbol in the search box.
The information in this blog post represents my own opinions and does not contain a recommendation for any particular security or investment. I or my affiliates may hold positions or other interests in securities mentioned in the Blog, please see my Disclaimer page for my full disclaimer.
comments powered by

Disqus
Todd's investing strategy is essentially long with the rare short. He seeks to buy undervalued issues with an upcoming catalyst that will help them realized.... More »

Tags

Archives